Indian Delights Taupo
A place where food, design, and ambiance come together to create a memorable experience.
Are you looking for a venue to organize your special function at Indian Delights restaurant and bar? Great choice! Indian Delights is one of the best Indian Restaurants in Taupo with amazing Lakeview. Organizing an Indian buffet and party function can be an exciting and memorable experience. Choosing a suitable venue like Indian Delights restaurant, incorporating authentic decorations, and providing captivating entertainment, you can create an event that showcases the richness of Indian culture and cuisine. Your guests will leave with fond memories of the vibrant flavors, warm hospitality, and festive atmosphere. We offer and host a beautiful memorable event. Whether you're planning birthday celebration, a wedding reception, corporate gathering, staff party or any special occasion, Indian Delights can add a touch of elegance and spice to your event. We have fantastic option for catering to a diverse range of tastes and dietary preferences. Indian Delights is known for its rich flavors, vibrant colors, and aromatic spices, which can delight the senses and leave a lasting impression on your guests. From delectable curries to mouthwatering tandoori dishes, there is something for everyone to enjoy. We can include a variety of entrée, vegetarian and non-vegetarian dishes to accommodate different dietary needs. Classic favorites like butter chicken, biryani, Paneer Tikka, and dal Makhani are always crowd-pleasers. We have a huge Bar area for beverages, including refreshing cocktails, mocktails and traditional Indian drinks like Lassi and masala chai, huge selection of wines, beers, spirits and many more for your guests' preferences. To make your event memorable, we have professional and proven team. You can be assured of high-quality food that will leave your guests craving for more.
Indian delights a popular Indian Restaurant in lakeside Taupo. Known for Beautiful LAKEVIEW, SUNSET and delicious authentic Indian cuisine. Experience the ease and convenience of reserving your table at our restaurant with our table booking service, you can secure your spot in advance and ensure a seamless dining experience. Whether you're planning a romantic dinner Date, Group Celebration, Weekend Brunch, a gathering with friends and family, or a business meeting, our dedicated team is here to assist you.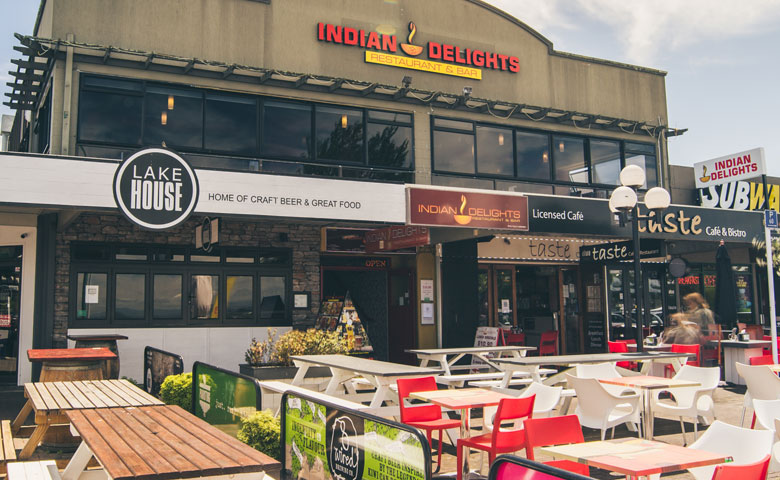 Indian Delights Taupo – Lake View Indian Restaurant and Bar
"a relaxed and welcoming dining experience."
Indian Delights Taupo – Lake View Indian Restaurant and Bar. Welcome every customer for an Incredible Dine-in experience of Authentic Indian Cuisine. You're guaranteed to take home a great memory of your time in Taupo.
We look forward to welcoming you to our Restaurant.